If you're looking for an adventurous and unique activity to do in New Zealand, caving should definitely be on your list. New Zealand is home to some of the world's most stunning cave systems, known for their glowworms that light up the ceilings like tiny stars. From guided walking tours to black water rafting, there are plenty of options for both beginners and adrenaline junkies. Some popular caving destinations include Waitomo Caves, Kawiti Caves, and Te Anau Caves. However, it's important to be prepared and take necessary precautions when exploring caves, such as wearing appropriate footwear and packing a head torch. So get ready to delve into the underground wonders of New Zealand and discover a whole new world waiting to be explored!
Waitomo Caves
Located in the Waikato region, the Waitomo Caves are the most popular caving destination in New Zealand. With over 300 limestone caves to explore, there is something for everyone. For beginners, a guided walking tour is a great option to learn about the caves and their geological formations. If you're feeling more adventurous, you can try black water rafting, where you float along underground waters in an inner tube, or even abseiling and zip-lining.
For those with mobility issues, the Ruakuri Cave is wheelchair accessible and offers a 2-hour guided tour. This cave allows visitors to experience the fascinating geological formations and the magical glowworms that light up the ceilings. The Waitomo Glowworm Caves are another popular attraction, offering guided boat tours where visitors can learn about the history and geology of the caves while surrounded by thousands of glowworms. For entomology enthusiasts, the Aranui Cave is worth a visit to see the cave wētā colony located inside its entrance.
Kawiti Caves
Located in Northland, the Kawiti Caves, or Waiomio Caves, offer a unique caving experience. The highlight of the tour is the glowworms that light up the cave ceiling, but visitors also get to take a short bush walk through rainforest and see karst rock formations. The guided walking tour lasts about 30 minutes and provides information about the geology and history of the cave system.
Nikau Cave
Closer to Auckland, Nikau Cave offers a different kind of caving experience. The guided tour lasts about 90 minutes and includes wet sections, so visitors should be prepared to get a little wet. One section of the cave requires crawling, so a change of clothes is recommended. The cave is known for its calcite formations and up-close views of the glowworms.
Waipu Caves
Located in Whangarei, the Waipu Caves are an undeveloped cave system that can be explored free of charge on a self-guided tour. Visitors should be aware that there are no paths or lights in the cave, and some spaces can be narrow. It is inevitable that explorers will need to wade through water and get wet and muddy. However, the cave offers limestone and karst formations, possible fossil finds, and, of course, glowworms. There is even a cold shower just outside the cave for those needing to clean up after their adventure.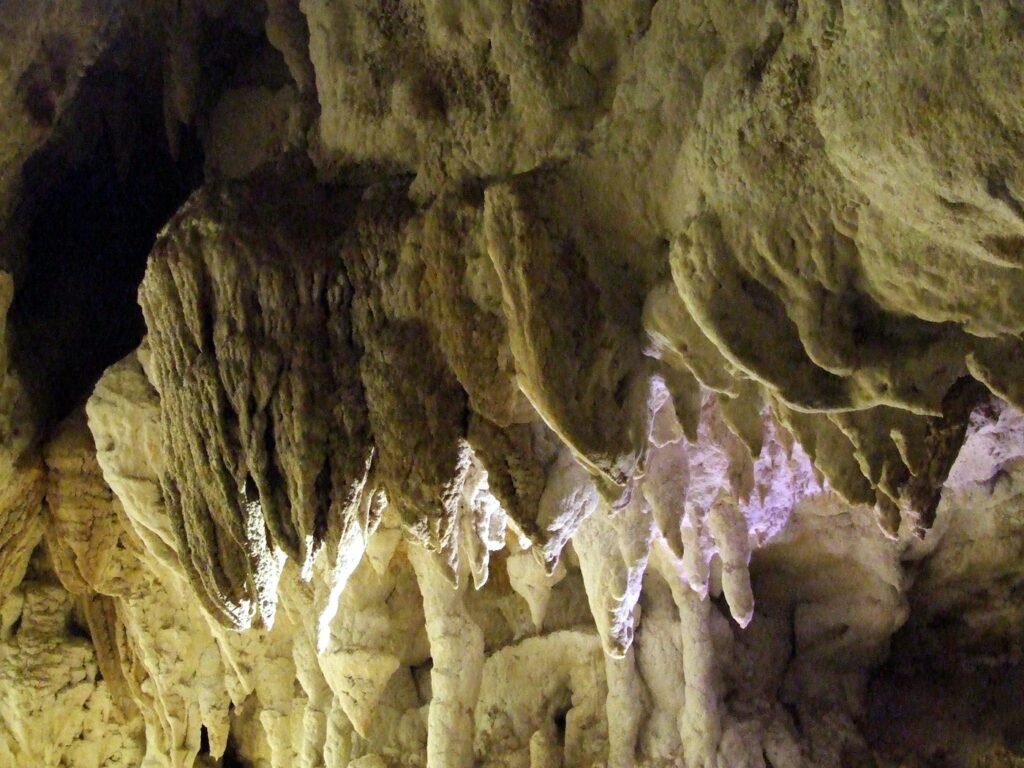 Abbey Caves
Also located in Whangarei, the Abbey Caves offer a unique unguided caving experience. Visitors can explore three caves through a circular walking path that takes them through farmland, forest, and limestone outcroppings. Each of the caves has streams at their entrances, so visitors should come prepared with water shoes, proper footwear, and head torches for the best experience.
Te Anau Caves
Located in Fiordland, the Te Anau Caves are a great option for families. The guided tour lasts over 2 hours and includes a boat ride across Lake Te Anau and a short walk before entering the cave. The highlight of the tour is the boatride through the glowworm grotto, but visitors also get to see underground whirlpools, intricate limestone formations, and a subterranean waterfall.
Harwoods Hole and Starlight Cave
Located on Takaka Hill, Harwoods Hole is the deepest vertical shaft in New Zealand, reaching a depth of 176 meters. In order to reach the Starlight Cave at the base of Harwoods Hole, adventurers must abseil down the vertical shaft. This caving experience is only recommended for experienced cavers who are fit, well-equipped, and prepared to spend upwards of 9 hours in the cave system. For those who prefer a less intense experience, there is a walking path that takes hikers up to the edge of Harwoods Hole.
Leave the Camera Behind
When visiting a glowworm cave, it is important to leave the camera behind. Glowworms are sensitive to light, so photography is typically not permitted in these caves. This allows the glowworms to thrive and create their magical displays undisturbed.
Start Early
To make the most of your caving experience, it is recommended to start early. This will help you avoid long lines and crowds on the more popular guided tours. It also gives you ample time to enjoy your self-guided tours without feeling rushed. Self-guided caving can often take longer than expected, especially for inexperienced cavers, so starting early ensures you have enough time to explore.
Leave No Trace
When exploring caves, it is important to practice Leave No Trace principles to protect and preserve these incredible cave treasures. This means not disturbing or removing any natural features or artifacts, avoiding touching delicate formations, and properly disposing of any waste. By respecting these caves, we can ensure that they can be enjoyed by future generations.